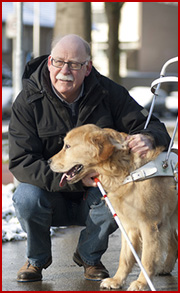 A service dog is a type of assistance dog specifically trained to help people who have disabilities including physical disabilities, visual difficulties, hearing impairments, mental illness, seizures, diabetes, autism, and more.
They are animals defined as dogs that are individually trained to do work or perform tasks for people with disabilities. Examples of such work or tasks include guiding people who are blind, alerting people who are deaf, pulling a wheelchair, alerting and protecting a person who is having a seizure, reminding a person with mental illness to take prescribed medications, calming a person with Post Traumatic Stress Disorder (PTSD) during an anxiety attack, or performing other duties. Service animals are working animals, not pets. The work or task a dog has been trained to provide must be directly related to the person's disability.

Perhaps more than anything else, persons with disabilities want to remain as independent as possible. A highly trained service dogs help to do just that. By assisting consumers with everyday tasks, service dogs give a tremendous boost to self-confidence and self-reliance. We train each dog in tasks tailored to the individuals they serve. Here are just some of the tasks service dogs are trained to provide:
Opening doors, cupboards, refrigerators, dryers, etc.
Retrieving phones
Activating adaptive switches
Aiding in dressing/undressing
Carrying items
Picking up dropped items
Retrieving items out of reach
Pulling a wheelchair
Assisting clients up from a fall
Help in climbing stairs
Help with balance issues
Turning light switches on & off
Barking to indicate help is needed
Desirable character traits in service animals typically include good temperament or psychological make-up and good health including physical structure and stamina. Labrador Retrievers, German Shepherds, and Golden Retrievers are the most common breeds used as service dogs, but any breed or mix of breeds is capable of being a service dog, though few dogs have all of the health and temperament qualities needed.
---
Training Options Offered for Service Dogs
Purchase of a new service dog
We will meet with you (the potential new client) for an interview to see the needs and wants of a service dog for you and your home. We will then hand-select a dog for you if we don't already have one in our program that matches your needs and train that dog to your specifications. Training to include on-leash obedience and all the service dog commands needed for you personally.
Training can last as long as 4 months depending on the different training scenarios needed. The cost for this program will include the purchase of the dog as well as all the training before placing the dog with you. It will also include placement training with you and the dog so you can learn how to operate the dog with all of the commands. This training can be done in a group setting or one on one private lessons depending on the situation.